Introduction to Joomchi Workshop
Instructor: Rona Richter
Saturday, November 11 from 10am-3pm
Tuition: $60 (+$20 materials fee to be paid to the Instructor on the day of the workshop)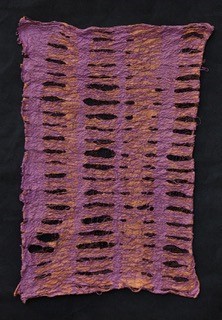 Join us for this exciting, one-day workshop and discover a new printmaking technique! Learn the basics of the ancient Korean art of Joomchi. Using "Hanji" paper (Korean mulberry), we will manipulate lays of paper to create strong, textural and painterly surfaces. Prints and collage elements can be incorporated to make unique works of art. A materials list will be made available upon registration.
Instructor:
Rona Richter

Rona received her BFA in Painting from the University of the Arts. She continued her graduate studies at Columbia University, the New York Studio School, and at Tyler University. Rona has also studied hand papermaking in Japan, Thailand and Burma. She is an award winning exhibitor in the American Color Print Society show, Artists' Cultural Exchange and various other national shows. She has taught at Bucks County Community College, Perkins Center for the Arts and the Abington Art Center.
Please click here to register for this class. If you need help with your login, email us.