ARTISTS IN RESIDENCE 2022-2023:
Emma Foster, Printmaking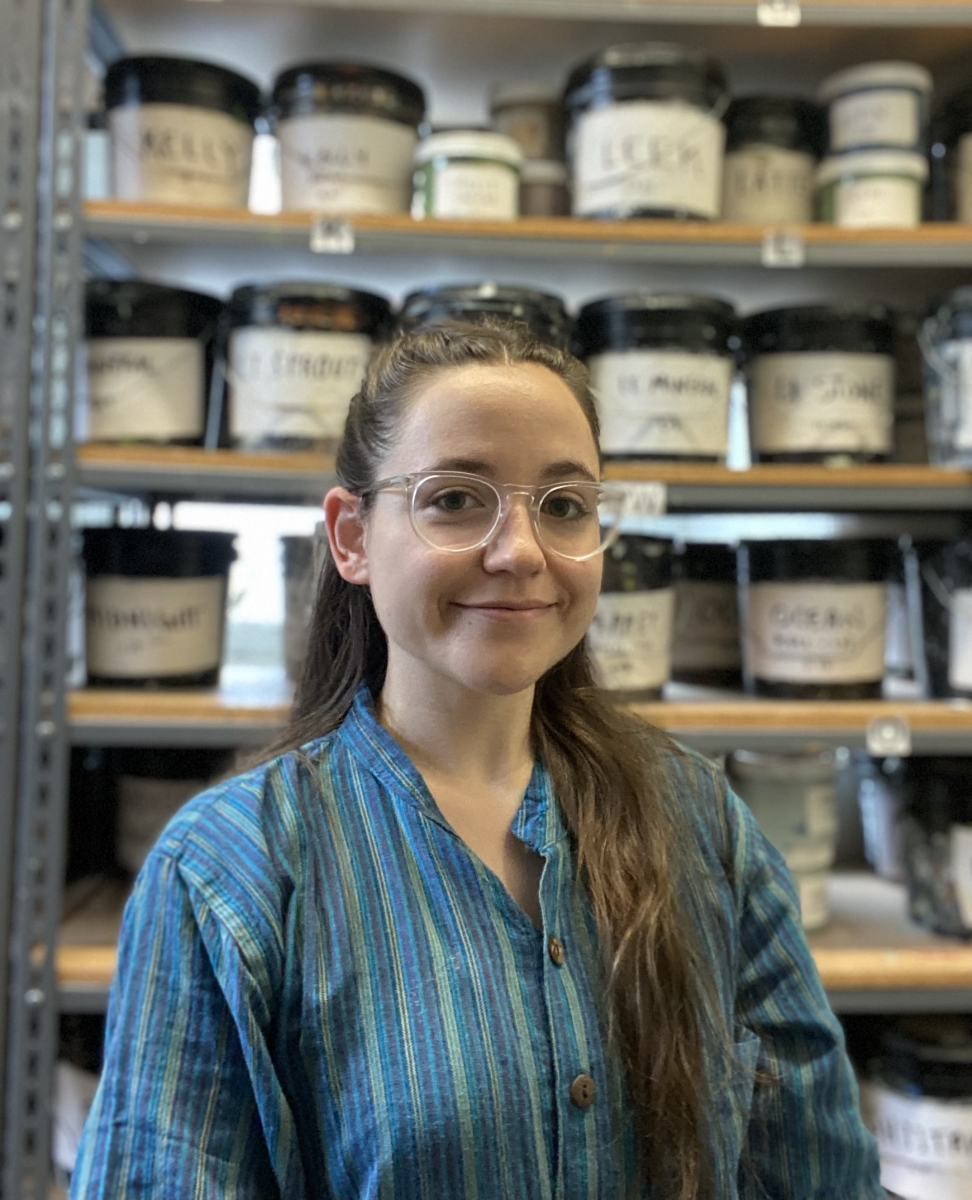 Emma Foster is a printmaker and artist based in Philadelphia. She is inspired by place and the natural world, repetition, patterns, and geometry, and is learning to approach her practice with a sense of playful curiosity. She finds that engaging in the process of art making is relaxing and meditative; it's a way to feel grounded in the present and can help mitigate the fear and worry that she experiences when contemplating our world and its current climate. Emma is fascinated by the way people engage with her work - leading to experiments with scale, function, viewer interaction, and animation.
Emma went to Arcadia University to study Art Therapy. She graduated in 2019, and then participated in a 4 week residency at Burren College of Art in Ballyvaughan, Ireland with Arcadia University. Emma has worked for Galbraith & Paul in Philadelphia as both a hand-block textile printmaker, and currently as a color specialist, mixing paint colors for the linen yardage. Emma has also been a member of BYO Print, a cooperative printmaking studio and artist collective located in Old Kensington, since 2021. Growing up in a small NJ town, attending a Friends school, being a member of BYO Print, and working for a small studio have all influenced her deep appreciation for community, and Emma is so excited to join the community at Cheltenham this fall.
Diana Riukas, Painting & Multi-Media
As an interdisciplinary artist, I've been creating acrylic and also encaustic mixed media collage painting for many years. In my current work I began combining my mixed media paintings with the digital. My process often begins on paper. Then, it's uploaded into the digital. Many layers are created and collaged together. I love to create unexpected juxtapositions of color, contrast, and patterns. I especially love portraying the female figurative in my work, often with themes of empowerment.
As a partially and legally blind artist, I have a unique vision, which is expressed in my art. My motto is "You don't need to see 20/20 to have artistic Vision!" Unknowingly, I was born with a rare hereditary retinal disease. The onset of blindness was mid-life after a lifetime of completely normal vision. Vision loss has impacted my art in many ways. My art practice of creating on a mobile device began due to this vision disability. Using it (a tablet) supports a visual impairment and facilitates ability to see details in my digital artwork. My work is often autobiographical with an interest in whimsical abstract figurative.
My background includes a BA in art from West Chester Univ., M.Ed. in art education from Tyler School of Art, and a MFA in Painting from Maryland Institute College of Art. My work has been exhibited in museums, galleries, and institutions nationwide, including the Philadelphia Museum of Art, Delaware Art Museum, and Trenton City Museum. My art is represented in collections in the US, Canada, UK, Europe, and Australia.
Lisa Suzanne Turner, Theater
Lisa Suzanne Turner (she/they) came to Elkins Park mid-pandemic by way of Durham, NC. Lisa Suzanne made her way to Durham a decade ago to obtain her bachelor's degree at the Historically Black College, North Carolina Central University, in the Department of Theater and Dance. They started their own theatrical lighting business, directed a myriad of productions, traveled as an Electrican with the Ringling Brother and Barnum and Bailey Circus, taught such classes as installation art and acting for the stage and performed extensively with Paperhand Puppet Intervention. In this new pandemic normal it has become their focus to blend social justice and technical theatre through experimental performance art. The goal of this collaboration is to lift up voices that this political climate has made every effort to silence.
Elena Drozdova, Painting
Born in 1957 in Moscow, Russia, Drozdova graduated from Moscow Architectural Institute. Drozdova moved to the US in 1989. Drozdova does mostly representational works employing a variety of techniques that she herself develops or invents. Her main interest is in finding marriage between process and purpose, spontaneity and structure. Oftentimes through her art she seeks to find expression to her dreamlike visions and subconscious fantasies.