Summer Camp update:
Dear Families,
Thank you for your patience as we have worked out the best way to proceed with our summer program. Here we go!
The Program:
After exhaustive consideration of the safety of our campers and staff under current conditions, we have decided to start our summer with camp online while we transition from stay-at-home to out in the world! The following sessions for ages 5-12 will run on the scheduled dates online via Zoom:
Crafty Kids Week 1: June 22 - June 26
Session 1: June 29 - July 10
Session 2: July 13 - 24
The Details:
Campers will meet online weekday mornings from 9:30am-12pm. As per our familiar camp program, there will be two classes daily with a short break in-between. We will continue to group campers by age. Our online program includes age appropriate art projects in a variety of media plus theatre games, with face to face online instruction with professional artists...aka the teachers many of you know and love with some new additions and guests! Supply kits will be available for curb-side pick up. Your children will be absorbed in the world of art online for 2 1/2 hours each day for fun and laughter.
Going Forward:
While we would love to be able to promise in-person camp for the end of the summer, great programming for all is still our main concern. We have evaluated our space for safety and comfort and have determined that there may be a way to meet in-person for our August sessions.
Here's what we know! The following sessions will run (either in person or online) in the mornings. While the full-day program will have to wait until next summer, we WILL be able to deliver fun-filled mornings that include work in 2D, 3D, Ceramics and Theatre arts. We reserve the right to opt for the online option based on current conditions and will announce that final decision by June 30.
Session 3: July 27 - August 7
Session 4: August 10 - 21
Crafty Kids Week 2: August 24 - 28
What about the teens?
Oh we haven't forgotten the teens! Please watch for weekly teen classes offered online in specific subjects including; Drawing, Elements of Graphic Design, Print Making, Clay, Mixed Media and Independent Studies. Details and registration available by June 5th!
How do I register?
Online camp will be open for registration Tuesday June 2nd. Please email us at info@cheltenhamarts with questions. For those who have already registered for our original program, please watch your email. We will be contacting each family individually to help with options for your current registrations.
We are truly excited to bring art into your homes this summer. Although this will be a whole new way to do CAMP, our dedicated teachers and staff can't wait to include you in our joyful plans for creative times.
Please remember that the Cheltenham Center for the Arts is a 501c3, non-profit organization. We have been growing and evolving with the needs of our community for 80 years this year! We sincerely hope to be able to continue for another 80, but we will certainly need your help. If you would like to make a donation to the Center to be used towards supporting us through this very difficult time, please choose the DONATION link under the ♥SUPPORT tab on the front page of the website. We are so appreciative of your support!
Sincerely,
Margaret Griffen
Executive Director
Crafty Kids Week 1, Session 1 and Session 2 - Online, Morning programming. Registration* open Tuesday June 2nd.
Session 3, Session 4 and Crafty Kids Week 2 - Morning programming. Registration* TBD. (online or in person TBD)
*If you have already registered for Summer Art Camp 2020, we will be in touch with you next week to see how you would like to proceed.
Again, thank you for your patience!
CHELTENHAM CENTER FOR THE ARTS SUMMER ART CAMP is specially designed for children ages 5-12 & TEEN SUMMER STUDIOS are for ages 13-17, who enjoy activities in the visual and performing arts. Our programs give children the chance to develop creative skills for self-expression. We encourage children to explore the many ways to solve problems in their creative process and think outside the box. A carefully planned and structured program provides children with a varied schedule that maintains a high level of interest and fun.
The children are grouped by age with each group assigned their own counselors to guide the children from one activity to another. We encourage new campers and families to visit the Art Center to tour the facility and meet staff. We suggest stopping by to experience what CCA has to offer. Call in advance to arrange an appointment.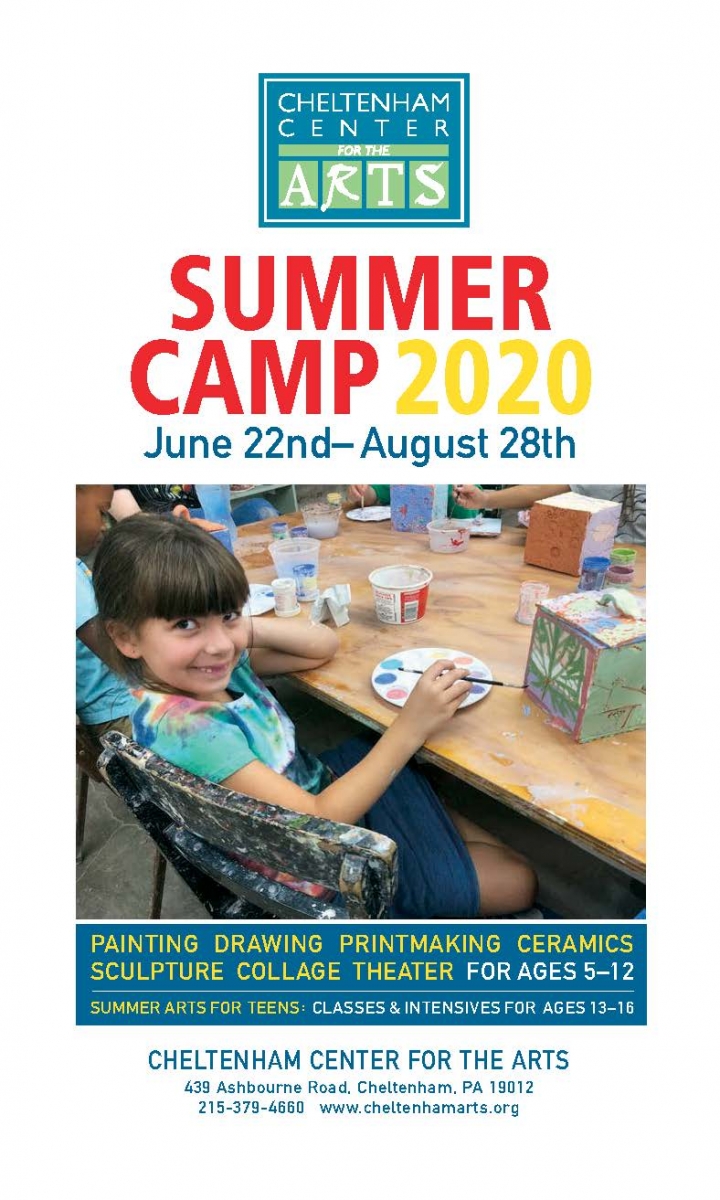 Click here to view full brochure!
Our program has been revised to follow the guidelines set forth as a result of Covid-19.
SUMMER 2020 DATES:
Crafty Kids 1: June 22-26
Session 1: June 29-July 10
Session 2: July 13-24
Session 3: July 27-August 7
Session 4: August 10-21
Crafty Kids 2: August 24-28