November 14, 2020
7pm
$35


Cheltenham Center for the Arts
439 Ashbourne Road
Cheltenham, PA 19012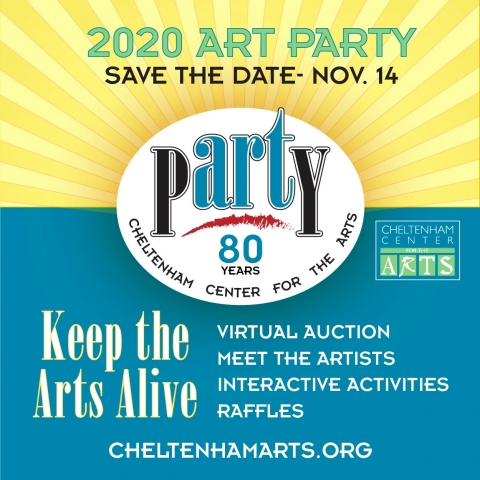 Join us November 14th at 7pm, Virtual Art Party 2020!
Online auction, interactive activities, meet the artists and more.
You will receive a Zoom link to our event by 2pm on Saturday. Art Party celebrates the many pieces that make up our community. Join us on Saturday night for a taste of what's happing at the Center. Meet some artists, hear some music, see some art in the making, purchase some fine art. Help us keep the arts alive in Cheltenham!
Our online auction has begun! 80 items to honor CCA's 80 years - Bid, Bid, Bid!
Auction will be open through Sunday, November 15th at 5pm.
Purchase tickets now for the vitual event on November 14th, 7pm. $35 each. Included in the price of your ticket is a gift bag for you! Bags include a piece of our community art project so you can participate, a raffle ticket, and something fun from the CCA Gallery Shop! Bags available for pick up at the Shop on Friday from 12-5, at the Center on Saturday from 2-4 or by appointment.
Can't wait to see you!