March 04, 2018
12-4pm
Cheltenham Center for the Arts
439 Ashbourne Road
Cheltenham, PA 19012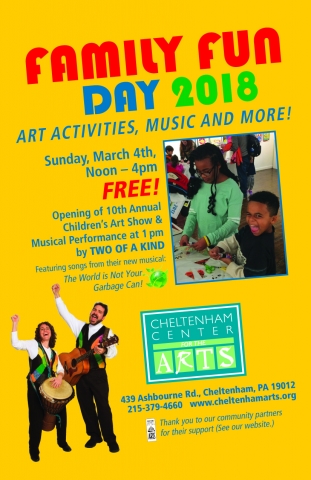 All are welcome at The Cheltenham Center for the Arts on Sunday, March 4th, from 12-4pm for our annual Family Fun Day! General admission to the center is FREE and open to the public, with a small number of paid activities and a special performance available. Enjoy a full day of live artist demonstrations, hands on activities, and fun for all ages.
This year's special musical guest will be Two of a Kind. Two of a Kind is David & Jenny Heitler-Klevans, an award-winning musical duo specializing in interactive music for children and families. Two of a Kind gets audiences of all ages involved in the show, through singing, movement, sign language, lyrics on the spot, puppets and more! Two of a Kind has released 9 CDs and 1 DVD garnering a total of 20 national awards. David & Jenny have also written a musical for kids called "The World is Not Your Garbage Can," and they will feature songs from their musical for this Family Fun Day. They will be performing at 1pm in the theater.
In addition, Demonstrations will be organized by our professional artists and instructors in the unique and amazing studio spaces of The Cheltenham Center for the Arts. From pottery, painting, printmaking, and more the whole family will be able to create objects of art in the various studios and take their creations home that day. Dress for a mess and introduce yourself to everything The Cheltenham Center for the Arts has to offer.
Furthermore, Sunday, March 4th marks the opening of our 10th Regional Children's Art Show. View the works of local and regional elementary and middle school talent on display in the galleries. Family Fun Day provides The Cheltenham Center for the Arts an opportunity to open its doors to the public and say thank you for the continued support of the community, and welcome new friends from the surrounding communities. Summer Camp and class registration will be available at this time.