October 19, 2019
9am-5pm
$30 ($25 members)


Cheltenham Center for the Arts
439 Ashbourne Road
Cheltenham, PA 19012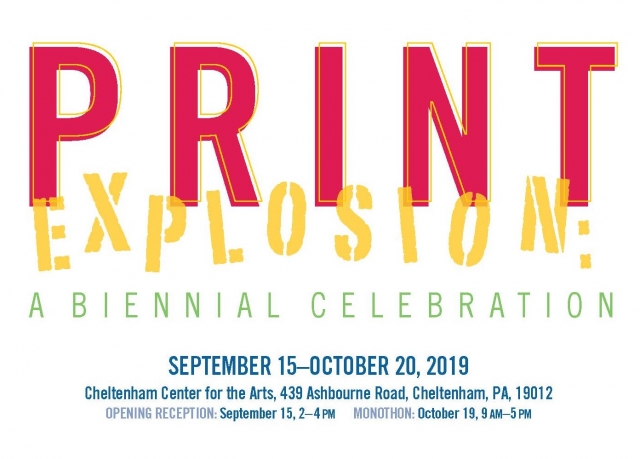 Thank you for your interest in the Print Explosion Monothon Workshop on October 19th. This workshop is currently full. Feel free to call the center to see if there have been any cancellations.
Our second biennial celebration explores ways that contemporary printmakers are combining mediums and incorporating multi-layering techniques in their work. Putting processes such as lithography, etching, photo transfers and collage together or layering in unexpected ways create an entirely new experience for both the artist and the audience.
The Celebration continues on Saturday, October 19 from 9am-5pm with Monothon: a day of non-stop artmaking including demonstrations by guest artist Elaine Erne and workshops by Agathe Bouton. Luncheon is included!
In the morning we'll enjoy a workshop and demonstration by two artists who use multi-layering techniques with exciting results. Different types of inks, paper, hand printing and the press will be used. After our luncheon, we'll head back to the studio for a marathon session of monotype printing (monothon!). You'll have a chance to use the techniques you learned in the morning or experiment with your own. All materials will be provided. The result of your creative day in the studio? New techniques, a small collection of prints and a fun afternoon collaborating with other artists!
Print Explosion was featured by Harri Leigh on PBS 39! Click Here for the article.
View Agathe Bouton's work:
Website HERE
Facebook HERE
Instagram HERE