October 9, 2022

to

October 31, 2022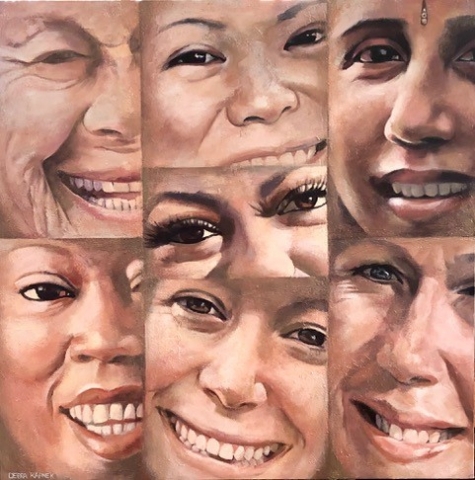 Cheltenham Center for the Arts Welcomes
Debra Kapnek: Portraits from Around the World to our Neighborhood and other selected work.
October 9-31
Opening reception Sunday, October 9th, 12:30-2:30pm
Debra Kapnek, whose portraits, landscapes, and still life paintings are part of private collections throughout the United States and Israel, studied art at Temple University before moving to Israel in 1974.
Five years later the city of Haifa sponsored her first one-person exhibit.

In 1980 she attended George Washington University on a full fellowship for merit won the Kreiger award for excellence, and graduated with her master's degree in Fine Arts in 1981.

Her many commissions include Hebrew graphic designs for the Jewish Federations of Baltimore and Allentown, and a 5'x6' composition of family portraits for the Levine's Funeral Home in PA.

Her series of portraits of Ethiopian Jews, commissioned by the American Association for Ethiopian Jews in 1990, was purchased for permanent exhibit at the University of Tel Aviv.

Her first large composition of six Holocaust Survivors was purchased in 2001, and is now part of the permanent collection of the Florida Holocaust Museum.

CHAI, 18 portraits of Women Holocaust Survivors, was permanently installed in the JFCS Brodsky Enrichment Center, Wynnewood PA, in April 2017.

In 2020, The Max and Bella Stein Foundation produced an 18 minute film focusing on her third composition of Survivors, "18 Enduring Voices".
Debra has taught Drawing and Design at the Haifa Community College and at the Montgomery County Community College in Rockville. She has also taught private art lessons in her various studios over the past 30 years.
Exhibit Details
Gallery Hours:
10am - 5pm Monday - Friday
Reception:
Sunday October 9, 2022 - 12:30-2:30pm